My first foray into the world of Amo Jones was with, The Silver Swan. I was instantly addicted to her writing style and ability to suck you into her written fantasy world. Since then, I have also read Razing Grace part 1 and 2 and absolutely loved it. Fast forward too, The Devil's Match. Amo Jones did not disappoint.
Blurb:
The Devil's Match picks up where Razing Grace, part 2 ended. Ella is in the process of packing up to head off to college at NYU. She is the sister, aka "The Princess of Darkness" 😈, to Raze/000/The Executioner, Miles (not by blood, but by choice) and Beast, the International president of The Devil's Own MC. In the meantime, Frost has gone Nomad while still being a part of The Devil's Own. There are reasons as to why Frost is going Nomad and may be gone up to six months.
"One Mississippi, two Mississippi, three Mississippi…."
Review:
Let me start by saying this book was just freaking phenomenal. I am utterly amazed at the dark and twisty mind of Ms. Jones and the ability she has to fully engulf oneself in her dream world. She never disappoints. With every book of hers that I have read, she just leaves me shredded to point where I am still thinking about it days after. There are so many twists and turns, highs and lows and flat out, no they didn't!! Every word said about this book, could be a potential spoiler, so with that said, let's keep this short and spoiler free. 😉
Frost is a pleasantly delightful psychopath🤨. He is so deranged, yet so smooth and sweet talking it made him an intriguing character to read. I loved him, yet hated him for some things he did. I loved his crazy a@@ and his overly aggressive roughness. Totally hated him sometimes for the way he treated Ella, but in reading its part of his 'growing' process. In the end, I LOVED Frost, because of the ending with Ella.
Ella was a surprising character. At the end of Razing Grace part 2, she is perceived as this soft, delicate little flower not to be disturbed or messed with. Well, hello, Ella in The Devil's Match. Initial emotion while reading about her was shock and then a 'hell, yeah'! I loved reading about this side of Ella. I always felt that something was off with her and there was more to it, than having three overprotective brothers trying to save her from the darkness and evil of this world.
When talking about Frost and Ella as a couple, they were far from perfect, yet as with any couple it is a process. They are a match made in psychotic heaven!! 💑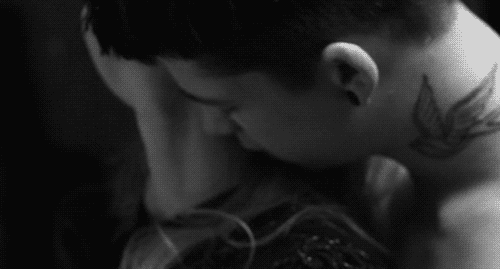 Gah, there is so much that I want to say, but I WILL NOT spoil it for anybody. There were so many good times, bad times, shocking times and even some, 'Hell yes, you go girl' times, that made The Devil's Match a knockout hit. Now, I will warn you, this will not be for everybody and that's ok. It's dark, erotic, a complete and total mind f@ck, yet so dang good. If this doesn't sound like your cup of tea and you don't enjoy, just know this is as a heads up for the faint of heart. However, if you're feeling like stepping out of your comfort zone box, pick up an Amo Jones book.  Her writing is completely above and beyond!! 5 fist pumping 'hell yeah' stars!!! I am so excited to read about Miles, Blake and Willow next. Can't wait!!
"That kind of love, the kind you both have, doesn't die. It doesn't even fade. It remains and intensifies, but never dies."