⭐⭐4.5 'Anonymous' Stars⭐⭐
I was immediately pulled in by the simplicity of the cover. The hauntingly beautiful picture with black, red and white promised a suspenseful mystery. Ms. Dover didn't disappoint with the telling of Anonymous, a romantic suspense.
Jake and Elizabeth Kingston are the featured couple in this book. They have an incredible marriage that is on sound footing and are madly in love. They have been married nine years and met through a mutual friend. Jake is a prominent figure in the world of architecture and a former MMA athlete. Ellie owns a bakery in town and is very successful in her own right. She is famous for her flavors and her artistic abilities when it comes to decorating a cake.
Jake travels a lot for his job leaving Ellie at home. She doesn't mind, because she is usually busy with her bakery, family or friends. While getting her hair done one day, she receives a text from an unknown number. Considering Ellie has had the same phone number since she was sixteen there could be a multitude of people who the unknown texter could be. After receiving a few more texts (increasing in the creep factor), she decides to block the number and not tell Jake about it. Unfortunately, the blocking only lasts 90 days. Fast forward through time, and the texts begin again with a different number. The creep factor is ratcheted up again another notch. The texts progress to insinuate that they will make Ellie 'his' and will stop at nothing to fulfill this, even kill Jake. In addition, Ellie begins to get these feelings that she is being watched/stalked. Jake and Ellie decide to get the police involved at this point. Finally, she decides to get a new number, but this doesn't deter the creep at all.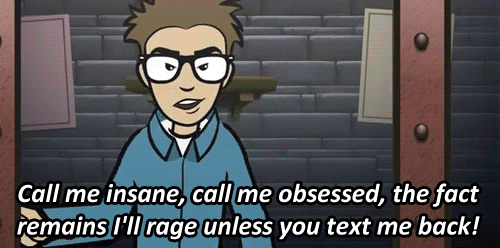 The mysterious/suspense/creep factor was good throughout this book. I, honestly don't know if I would call so much a romantic suspense, but there definitely were sexy times and love that was shown through Jake and Ellie. Overall, it had me guessing throughout the whole book as to who it could be and why. When I finally got to the climatic ending, it was one that I didn't FULLY see coming. I had my suspicions, but wasn't fully committed to who and why.
If you love suspense with romance involved that also encompasses the texting world, you will enjoy this.