Pretty Young Things by Ace Gray is a monster. Ace is a new to me author and I'm so incredibly happy that I got to start my 'Ace' experience with this one. There are only a few that I know that could tackle seven different points of view over the span of 20 years. That's right, 7 POV's in 20 years. It was exquisitely written that I didn't realize I was in a time warp while doing spin the bottle to determine the next character. Incredibly flawless.
I had to do a quick high school English refresh when I heard that this was based on The Count of Monte Cristo. For a quick recap of TCoMC, some of the major themes are: revenge, jealousy, manipulation, desire, greed and betrayal. PYT had all these themes in spades. Whether you were the betrayers or the betrayed, everyone is affected by the seven POV's.
To simplify, I'm going to go through some of the major players. There were four teenage boys who were battling their own demons and for some reason or another felt isolated in this world. This foursome soon became a brotherhood, through the blood pact. They were 'blood brothers. Now and forever' and vowed to always have each other's back. There's Dante, Diego, Danger and Rousse. Each boy unique in personality and characteristics, but a love of surfing bringing them together. Soon they are adult age and Rousse had the ability to buy the house that they always congregated at. This brotherhood soon became roommates.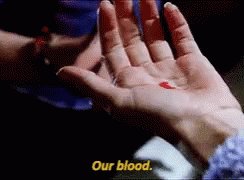 Next player is Mercy. She is a twenty-year-old who is incredibly unlucky. She lives in a trailer with a drunk daddy who likes to get a little grabby and a mother that ran away when she was young. There is something that happens in her life changing her unluckiness and allows her to meet Dante. Soon she is living with him and neither have been happier. Life is going right for these perfect partners and Dante had a job promotion. Nothing was ever going to change in this young couples' life, because now everything seemed to fall into place so easily since they were together. As far as the other POV's, I'm going to leave that a secret.
All is not what it seems in their young lives. There is a strain in this brotherhood that is starting, because of jealousy, greed and lust. Without knowing it, manipulation and betrayal are at play and if 'The Brotherhood isn't careful, vengeance will soon have your name on it.'
Pretty Young Things was nothing like I expected, but everything I wanted and more. Excuse me, Ace Gray, you have gained a lifelong fan. 🙋🏻‍♀️🙋🏻‍♀️
Normally, I have 'issues' with time jump stories (especially flashbacks). However, I was so engrossed with every single detail and every single character, that it didn't bother me. Yes, the book may sound overwhelming, but you get so drawn into their world, as if you were another character, that the next thing you know is that you're at the end going 'what did I just read'. For this sentiment alone, I give 5 'Have Mercy' stars. Take a chance on Pretty Young Things and you won't be disappointed.
'Promise me forever, Dante Rogue.'
'On every constellation in the sky.'