HO-LY CRAP!!!! Not to quote Alicia Key's here, but 'this girl is on fire'!! She has slayed me yet again with an all-consuming and gritty work of art! Time has come to write another review for an Amo Jones book and I genuinely say after each book, 'I don't know how she can top herself'. Ladies and gentlemen let me introduce you to the world of Mayhem and The Brothers of Kiznitch. In Peace Lies Havoc we were introduced to the brothers, King, Killian, Keaton and Kyrin, with King and Dove being center stage.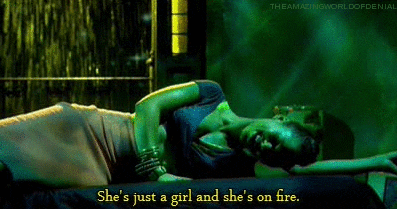 In Fury Lies Mayhem is Killian's book with Saskia and straight up and honest here, HER BEST BOOK YET!! It's been a few days since I finished, and I CAN'T GET KILLIAN AND SASKIA OUT OF MY HEAD!! Major book hangover!! I have said this before, and I'm going to say this again. Amo creates worlds with such clarity, from the overall generalized setting, i.e. location, down to the description of a tiny button on a pair of pants. It is impossible to not imagine what she is talking about. Her plotlines and storylines are ALWAYS on point, character descriptions are never lacking, and they always show growth from beginning to end.
I'm sure I'm not going to be the only one that says this, but Killian, good God, Killian was killing it. He's completely and utterly addictive. You can NEVER have enough of him. He has turned into my favorite Hero that Amo has ever written. He's everything a member of Mayhem should be. He's smoking hot, wicked, determined, mischievous, a badass and a straight up trickster. He has the face and the body to get a person to do whatever they want, even without his special 'powers' of telekinesis, hypnosis and coercive persuasion. As much as I loved him in the beginning, by the end, that love had deepened, simply because we got to see different aspects of his character that are not readily seen.
"I'll f*cking wait for you for as long as I need to, because time doesn't tick unless you're in my arms.
Saskia, mmm, girl, she is a match waiting to go up in flames. If gasoline was Kill and Sass is the match, they are one wickedly combustive inferno. She is perfectly 'match'ed for Killian. She not only stands up to him and fights him, but she deviously plays the Trickster with his games. Killian has never met someone like her.
"There's sexy, beautiful, hot, banging, and then there's Saskia, whose beauty trumps all the mundane adjectives that the Oxford Dictionary can generate."
In Fury Lies Mischief has consumed me and left me in a cyclone of emotions. I adored seeing this rough and hardened couple come together and show us all sides to their relationship and individual character. Amo is an epically gifted author/writer and I feel blessed to be able to read her books. Due to her incredible writing skills, I can still feel Mayhem swirling through me. Amo Jones, you are the Queen and I humbly bow down at your feet, screaming 'I'm not worthy, I'm not worthy'.